NRL Grand Final 2023: Start time, TV Channel, Live Stream Free
The NRL Grand Final will be between the Panthers and the Broncos.
Both teams played very well this year. They easily defeated their opponents in the last games before the final.
On Saturday, the Broncos won 42-12 against the Warriors. This is the first time they've reached the Grand Final since 2015.
The Panthers beat the Storm 38-4. This is the fourth time in a row they've reached the Grand Final.
The Panthers, coached by Ivan Cleary, could win three Grand Finals in a row. The last team to do this was the Eels from 1981-83, led by Peter Sterling.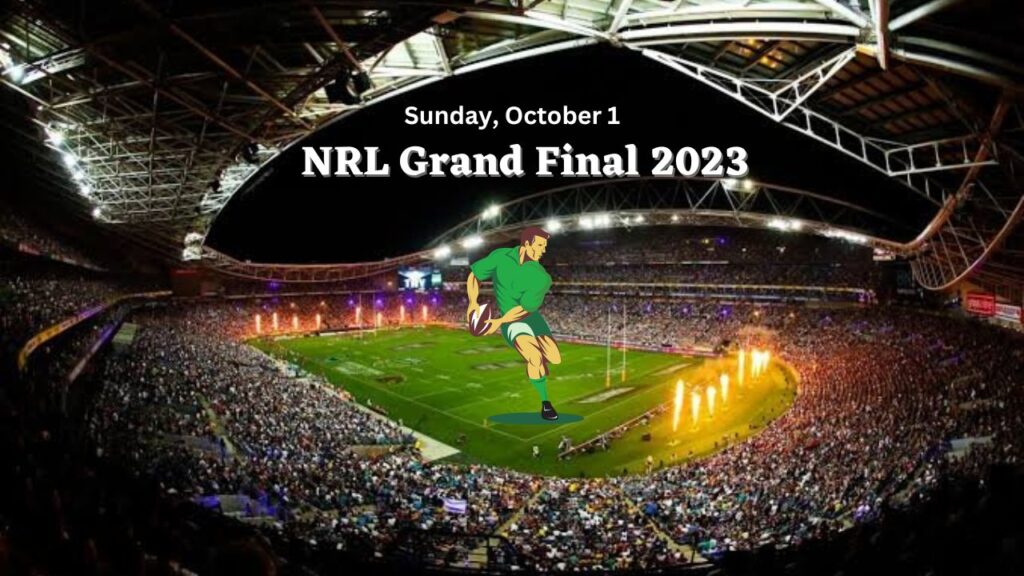 The NRL Grand Final is the Biggest night of the Rugby league every year. This year Sydney will host the National Rugby League championship match on Sunday, October 1 at Accor Stadium. Last year Penrith Panthers won against Parramatta Eels.
The biggest game of the year is here, In this content, we cover the 2023 NRL Grand Final timetable, Schedule, TV Channel and live stream guide of different countries.
2023 Telstra Premiership Grand Final Gameday Schedule
2023 Telstra Premiership Grand Final Gameday Schedule
Accor Stadium Gates will open at 1 p.m. on October 1.
State Championship Grand Final kick off at 1:20 p.m.
NRL Telstra Women's Premiership Grand Final 2023 will start at 3:55 p.m.
Pre-game entertainment will start at 6:30 p.m.
Finally NRL Grand Final starts at 7:30 p.m.
Post-match presentation and lap of honour 9.30 p.m. (approx.)
What time is the NRL Grand Final 2023?
The NRL Grand Final 2023 kick-off time is 7:30 pm AEDT as like previous year. Pay attention to your current time zone since different locations might apply.
NRL Grand Final Kick-off time in the Australian time zone:
7:30 pm AEDT for Sydney and Melbourne
6:30 pm AEST for Queensland
7:00 pm ACDT for South Australia
4:30 pm AWST for Western Australia
6:00 pm ACST for the Northern Territory
2023 NRL Grand Final time of other countries:
USA: 4:30 am ET/1:30 am PT
Canada: 4:30 am ET
UK: 9:30 am BST
New Zealand: 9:30 pm NZDT
Spain: 10:30 am CEST
What channel is the NRL Grand Final on in 2023?
In Australia, Channel 9 will broadcast live coverage of the NRL Grand Final 2023. Sky Sport in New Zealand, Fox in the United States, and Sky Sports in the UK.
Here is the list of Broadcasters:
Tonga: Digicel
Asia Pacific region: Premier Sports Asia
France: beINSport
Netherlands: Fox
Africa: ESPN
Canada: Rogers
Germany: Sport1
Inflight and Cruise ships: Sport24
How to live stream the NRL Grand Final 2023 in Australia?
The Nine Network holds the broadcast rights for the NRL Grand Final in Australia, so the event will be broadcast live and for free on Channel 9.
To live stream the game online for free, you need to join Channel 9's streaming platform, 9Now. It's free to join and compatible with various operating systems and devices.
The winner of the championship game will be announced immediately after the contest on Fox Footy or Kayo.
How to watch NRL Grand Final live stream from outside your country?
If you are outside Australia but still want to watch the final game, you will need a reliable VPN Service. It's possible to bypass geographic restrictions by downloading and using a VPN, assuming it's permitted by the broadcaster's terms of service.
After thorough research, our experts have determined that ExpressVPN stands out among the leading VPN providers. This is due to its high speed communication across various servers, thanks to the wide range of devices it supports.
ExpressVPN is compatible with numerous computing platforms, including desktop and laptop computers, smartphones, and tablets. They also offer 24-hour customer service to assist users whenever needed.
To watch the game, use ExpressVPN to connect to an Australian server. Then, simply open 9Now to enjoy the event.
How to watch the NRL Grand Final live stream in New Zealand?
In New Zealand, Sky Sport holds the broadcasting rights to the NRL Grand Final. This service is available as part of various pay TV packages.
If you're a subscriber, you can watch the game online via the country's Sky Go service. Alternatively, for those without a traditional cable subscription, the Sky Sport Now streaming-only platform is available. A weekly pass costs NZ$19.99, while a monthly subscription is NZ$44.99, and Annual Pass cost is NZ$449.99.
If you have a subscription but are abroad. Here VPN can help you to access your streaming service from anywhere.
Where to Stream NRL Grand Final in the UK?
In the UK, NRL Grand Final will be broadcast on Sky Sports.
If you're not currently a subscriber, you won't need to make a significant commitment to watch the game.
You can opt for a Now Sport pass, with prices starting at just £11.99.
How to Live Stream the NRL Grand Final 2023 from Anywhere
If you're a football fan living outside Australia, New Zealand, or the Pacific Islands, don't worry. The streaming service 'Watch NRL' allows customers to watch all the action from anywhere in the world, on any device.
To access 'Watch NRL' requires a subscription, but they also offer a Grand Final Pass, which is available for US$29, £22, €25, or AU$40.
If you're experiencing geo-blocking issues, consider using ExpressVPN to bypass them. Connect to an appropriate server using ExpressVPN. Then, you should have no problem accessing 'Watch NRL', even if you are overseas.
Can I Watch NFL Grand Final live stream for free?
Yes, you can watch the NRL Grand Final live stream for free, but this depends on your region's broadcaster and TV deals.
For instance, in Australia, you can watch it completely free on the 9Now platform. Viewers in the USA can access FOX through a free trial of a Live TV streaming service.
Furthermore, you may find links to different free streaming sites in Reddit communities and through search engines. However, be aware that these websites may not be safe for your device, and pop-up and video ads could disrupt your viewing experience.
We hope our guide will help you enjoy every NRL Grand Final action moment. So sit back, relax, and prepare to choose your most suitable viewing option.
NRL Grand Final FAQs
Where can I watch replays of the 2023 NRL Grand Final?
Replays can be watched on Fox League, accessible via subscription on Foxtel Now, Foxtel iQ, or Kayo Sports.
Which team won the NRL Grand Final in 2022?
The Penrith Panthers won, defeating the Parramatta Eels with a score of 28 to 12.
Which team holds the record for most NRL Grand Final victories?
The South Sydney Rabbitohs have won the grand final a record 21 times.
Which team has the fewest NRL Grand Final victories?
The West Tigers have won only once, in 2005.
Where has the NRL Grand Final traditionally been played?
The grand final has traditionally been held in Sydney. However, there have been occasional relocations, such as the 2021 game in Brisbane.
What is the record for the highest attendance at an NRL Grand Final?
The 1999 grand final between the Melbourne Storm and St. George-Illawarra Dragons had a record attendance of 107,999 spectators.
What was the attendance for the smallest crowd at an NRL Grand Final?
The 2021 Grand Final had an attendance of 39,322 people.
What is the seating capacity of Accor Stadium?
Accor Stadium can seat approximately 84,000 spectators in its rectangular configuration.
How can I purchase tickets for the NRL Grand Final 2023?
Tickets for the NRL Grand Final went on sale to the general public on September 5 at www.nrl.com/tickets.